CE Keeble – Building Projects
Our family building business was established in 1992 with just Colin and one other employee.  As it began to grow Colin's wife Helen joined them to manage the finance and administration and the business now has 10 employees including 2 apprentices forming a loyal and skilled workforce, plus we have a team of experienced professional subcontractors to call upon when needed.
Based near Taunton, CE Keeble Ltd cover the town and surrounding areas offering a complete service.  We can project manage your conversion or new build from the early planning stage all the way through to its completion. We pride ourselves on a quality service with excellent customer relationships at a competitive price.
Whatever the size of your project it is worth giving us a call to discuss your requirements.
Training is very important to us all here at CE Keeble – to date two employees have gained trade qualifications through the apprenticeship scheme, and the joinery currently has first and third year apprentices learning their trade.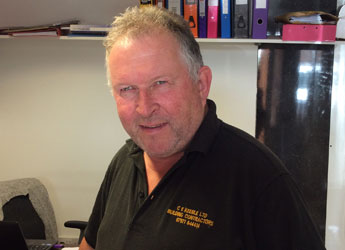 Colin Keeble, Managing Director, has been interested in building since childhood when he used to help his friend's father on various sites, doing everything from carrying bricks to mixing cement.  He did his City & Guilds qualifications through the apprenticeship route and gained a distinction in Advanced Brickwork.  He set up in partnership with a friend whilst still in his teens, then moved to Somerset in 1991 and started afresh here, he has now built up a successful small building and joinery company employing 10 people, including 2 apprentices.  Colin is very creative and has a talent for design which is perhaps unusual in a builder, he has created some amazing properties with highly original features.  Individual attention is important – Colin has a hands-on approach and oversees each job. His extensive knowledge combined with his creative flair often results in a project that has the wow factor!
If you're thinking of a new project why not give us a call?