CE Keeble – Joinery Projects
Joinery Manager Dave White and his team produce top quality bespoke work.  Each project is discussed with the customer to create individual pieces that will last for years – the antiques of the future!  Everything is done in-house, from initial customer visit, where one of our team will visit you on site, discuss your requirements and give ideas and advice, followed by a free estimate of the cost.  Our skilled craftsmen will work on projects in the workshop until ready for delivery and fitting by our skilled carpenters.
Our raw materials are sourced from local firms and the timber we use is sustainably grown.
Having a bespoke quality product made by skilled craftsmen may not be as expensive as you think!  Being a small local company, we can keep our costs down and are competitively priced against some of the larger national companies.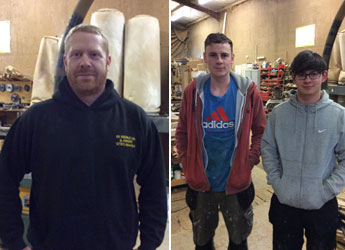 Dave White, Joinery Manager, has been working with wood for 22 years, he came out of the army and learned his trade from a time-served joiner with many years of experience and a wealth of knowledge.  He finds satisfaction in turning a rough piece of wood into something attractive that will last for years.  Some of the furniture he has built will become the antiques of the future.  
Dave and his team produce bespoke quality pieces made to the customer's individual requirements.  Dave's wealth of experience enables him to offer tailor-made advice.  Because everything is done in-house, the whole process runs smoothly for the customer, from initial discussion through to fitting and decorating.
Training the joiners of the future has always been important to us. We run an apprenticeship scheme and currently have two young employees being trained in conjunction with Bridgwater & Taunton College.  Time spent in the workshop under Dave's tutelage is invaluable to them.
If you're thinking of a new project why not give us a call?